Review Article
The difference in extraintestinal manifestations of inflammatory bowel disease for children and adults
Inflammatory bowel disease (IBD), which includes Crohn's disease (CD) and ulcerative colitis (UC), is considered a systemic disorder because its symptoms and signs are not limited to the gastrointestinal tract (1). Extraintestinal manifestations (EIMs) are common in IBD, and it has been reported to involve almost every organ system (Table 1) (1-4). EIMs can occur in patients with IBD even before the diagnosis of IBD is made (1,5).

Table 1
Extraintestinal manifestation of inflammatory bowel disease
Full table
The prevalence of EIM in IBD reportedly ranges from 6% to 47%, and most cases involve adult patients (6-9). Some reports of pediatric patients suggest a greater prevalence of EIM in younger patients with IBD. Grossman and DeBenedetti (1) reported that 68% of 41 pediatric patients with IBD developed EIM, while Stawarski et al. (10) reported that 50% of patients with UC and 80% with CD developed at least one EIM during the disease course. More recently, Jose et al. (11) reported that 29% of pediatric patients developed an EIM within 15 years of diagnosis. Dotson et al. (12) reported a similar result that 28.2% of pediatric patients with IBD experienced 1 or more EIMs for about 5 years. More recently, the Swiss IBD Cohort Study Group (13) reported a 16.7% (55/329) prevalence of EIM in pediatric patients with IBD. This prevalence is lower than those of previous studies of pediatric patients with IBD, and the authors interpreted that they used a more stringent definition of EIM that did not include nonspecific arthralgia or other nonspecific EIM such as anemia, hepatitis, pancreatitis, or osteoporosis. Lee et al. (4) reported about the EIMs in Korean pediatric patients with CD in a single center study, which showed hepatitis in 27.4% (20/73), peripheral arthritis in 2.7% (2/73), erythema nodosum (EN) in 2.7% (2/73), granulomatous vulvitis in 1.4% (1/73), and pulmonary thromboembolism in 1.4% (1/73). We recently conducted a multicenter study in a province of Korea about pediatric EIMs in IBD, and we have found that 23.3% (40/172) developed EIMs for about 7 years of study duration (Jang et al., unpublished data).
In the studies of Greuter et al. (13) and Guariso et al. (14), the presence of EIM at IBD onset was more frequently observed in pediatric patients with IBD than in adult patients with IBD (8.5% vs. 5% in Greuter et al. and 14.3% vs. 7.3% in Guariso et al.). Concerning the specific disease type in IBD, EIMs are reportedly more common in CD than in UC (22.5% vs. 10.3%) in pediatric patients with IBD (13). Dotson et al. (12) and Jose et al. (11) also showed that the prevalence of specific EIMs differed between disease types. Dotson et al. (12) found that ankylosing spondylitis (AS) and EN developed more frequently in CD than in UC and that primary sclerosing cholangitis (PSC) was significantly more common in UC. Jose et al. (11) showed that PSC and ocular EIMs were more common in UC than in CD.
EIMs can be subdivided into three categories: those directly related to the intestinal disease activity, those unrelated to the intestinal disease activity, and those that may or may not be related to the intestinal disease activity (Table 2) (2,3,15). Jose and Heyman (3) classified the EIMs into several categories as well: colitis-related EIMs affecting the skin, eye, joint, mouth, and hepatobiliary system; impaired growth; EIMs secondary to complications of or as direct extensions of bowel disease including nephrolithiasis, obstructive uropathy, cholelithiasis, and pancreatitis; and EIMs such as amyloidosis and cancer that cannot be categorized clearly in one of the other groups.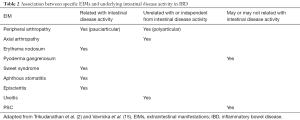 Table 2
Association between specific EIMs and underlying intestinal disease activity in IBD
Full table
In this review, we will overview the EIMs of IBD by focusing on pediatric data, which are actually quite limited, compared to adult data. We will also focus on the most commonly observed EIMs, including musculoskeletal, dermatological, oral, ophthalmologic, and hepatobiliary manifestations. Iatrogenic EIMs, those complications arising from therapy, are not discussed in this article. We will also compare the chronological appearance of EIMs in pediatric patients to those in adult patients with IBD using the latest published research.
---
Pathogenesis
The pathogenesis of EIMs in IBD is not yet fully understood, although it is widely hypothesized that EIMs in IBD are related to immune reactions (16-20). IBD itself is caused by immunologic derangement in the gastrointestinal mucosa, and patients with IBD have an increased tendency to develop autoimmune diseases (21). The "leaky intestine" of the diseased gastrointestinal mucosa may trigger immune responses at various extraintestinal sites due to shared epitopes (18,20). For example, the translocated bacteria that slip through the loosened intestinal barrier may trigger adaptive immune responses that cannot discriminate among the epitopes of bacteria and those of extraintestinal organs, i.e., joints, skin, or hepatobiliary tract (15,18,20,22). An animal study suggested that the commensal bacteria can play an important role in chronic colitis, gastritis, and arthritis (23). In that study, HLA-B27 transgenic and T cell receptor-α mutant colitis mouse models required the presence of commensal bacteria to manifest intrinsic intestinal or extraintestinal pathologies (3,23).
Genetic factors are known to be related with the development of EIMs in IBD patients (24). The concordance in EIM was found at a high rate (70% of parent-child pairs and 84% of sibling pairs) (25). Studies of the associations between EIMs and major histocompatibility complex loci revealed that CD and UC showed associations with different HLA genotypes (24,26,27). More specifically, patients with CD were more likely to have HLA-A2, HLA-DR1, and HLA-DQw5 genotypes, while patients with UC were more likely to have HLA-DR103, -B27, and -B58 genotypes (24,26). Specific HLA complexes seem to be related with specific types of EIMs; for example, A HLA-DR3 is associated with an increased risk of PSC in UC, whereas HLA-B27 and HLA-B58 are associated with EIMs of the skin and eyes, respectively. HLA-B27 also shows a strong correlation with AS with positivity for this marker in up to 90% of IBD patients (26-28).
---
Musculoskeletal EIMs
Musculoskeletal disorders are the most common EIMs in IBD patients. Joint symptoms occur in up to 40% of patients with IBD (29). In pediatric patients with IBD, joint involvement may occur in 16–33% of patients at diagnosis or during follow-up (30). They can be subdivided into peripheral and axial arthropathies; the peripheral ones are further divided into type 1 and type 2 (31,32).
Peripheral arthralgia/arthritis
Peripheral arthropathies are known to occur in 5–10% of patients with UC and 10–20% of patients with CD (33). A recent pediatric study on EIMs in IBD showed that the prevalence of peripheral arthritis was 4–49% in CD and 2–50% in UC (34). Grossman and DeBenedetti (1) reported in an early study (n=41) that 2 of 9 (22%) patients with CD and 5 of 32 (16%) patients with UC had peripheral arthritis. Jose et al. (11) reported a 4.2% 10-year cumulative incidence of peripheral arthritis in pediatric IBD. Peripheral arthritis shows little or no joint destruction in patients with IBD and is usually seronegative compared to other types of arthritis such as rheumatoid or psoriatic (15,30). IBD patients with colonic involvement are at higher risk of developing peripheral arthralgia/arthritis than those without colonic involvement, which triggered the term "colitis arthritis" (2,20,35). Patients with disease complications or other EIMs, including perianal diseases, EN, stomatitis, uveitis, and pyoderma gangrenosum, tend to develop peripheral arthropathies (2,3,35).
Peripheral arthropathy is subclassified into type 1 (pauciarticular) and type 2 (polyarticular). Type 1 (pauciarticular) affects fewer than 5 large joints, such as the knees, ankles, wrists, and elbows, and is asymmetrical and migratory. It is usually acute and self-limiting with a median duration of 5–10 weeks (33). The severity of type 1 arthropathy varies with disease course, and the medical or surgical treatment of the intestinal inflammation usually results in the improvement of type 1 arthritis/arthralgia (2,15). Type 2 (polyarticular) is a symmetrical arthritis involving 5 or more small joints that requires differentiation from juvenile rheumatoid arthritis. The most commonly affected site is the metacarpophalangeal joint, and it can persist longer than type 1, with a median duration of 3 years (33). Unlikely type 1, its severity does not mirror the course of the intestinal disease; however, is known to be associated with an increased risk of uveitis (27,33). Type 1 is usually associated with HLA-B27, HLA-B35, and HLA-DR103, while type 2 is associated with HLA-B44 (27).
The diagnosis and classification of type 1 and type 2 arthropathy depends on their clinical manifestations; imaging findings are usually normal (36). Treatment includes medical or surgical treatment of the underlying colitis, especially in cases of type 1 arthropathy, as well as rest, physiotherapy, and intra-articular steroid injections. The use of nonsteroidal anti-inflammatory drugs should be considered with caution due to reports on subsequent exacerbations of the underlying intestinal inflammation (30,36,37).
Axial arthropathies
Axial arthropathies, which include AS and sacroiliitis, are less common than peripheral arthropathies, with a reported incidence of 3–25% (5,38,39). Lakatos et al. (7) reported sacroiliitis as the most frequent arthropathy in CD (20%) compared to UC (15%) and a female predominance, especially in children. Axial arthropathy does not parallel IBD disease activity like type II peripheral (polyarticular) arthropathy, and it is characteristically HLA-B27 positive (40,41).
AS primarily occurs in adolescents and young adults, with a reported incidence of 3–10% of patients with IBD (3,42). Karreman et al. (42) reported that patients with CD showed a slightly higher prevalence of AS than patients with UC (4% vs. 2%, respectively). A recent study of pediatric IBD shows the prevalence of AS of 0.5% in CD but rare in UC (34). Patients with AS usually have severe back pain with morning stiffness and exacerbation with rest. Radiographs of the early stage are usually normal or show minimal sclerosis. A physical examination reveals limited spinal flexion and reduced chest expansion. As it progresses, patients may show signs of vertebral body squaring, marginal syndesmophytes, bone proliferation, and ankylosis.
Sacroiliitis is reportedly observed radiographically in up to 25% of patients with IBD (6,43). As with AS, sacroiliitis occurs more commonly in patients with CD than in patients with UC (13% vs. 7%) (42). Lakatos et al. (7) reported that sacroiliitis was the most frequently observed axial arthropathy in CD (20%) compared to UC (15%) and that it had a female predominance, especially in children. Unlike with peripheral arthropathy, the treatment of underlying colitis does not alter the progression of axial arthropathy. Therapeutic agents for axial arthropathy include sulfasalazine, mesalamine, methotrexate, azathioprine, and anti-tumor necrosis factor-α (anti-TNF-α) (34,35).
---
Dermatological EIMs
Skin involvement in patients with IBD reportedly occurs in 10–15% of cases (5,29) and includes EN, pyoderma gangrenosum, psoriasis, erythema multiform, and Sweet syndrome.
EN
EN manifests as one or many tender, red, and inflammatory subcutaneous nodules that usually appear on the extensor surface of the lower extremities and rarely appear on the face and trunk. It is diagnosed mainly based on the clinical symptoms and signs, and skin biopsy is not usually recommended for diagnosis because it is known that any trauma on skin can aggravate the severity of EN (44,45). EN occurs more frequently in female patients with IBD and in patients with CD than in patients with UC (5). Adult studies reported EN prevalence rates of 2–7.5% in CD and 0.9–4% in UC (46). For pediatric patients with IBD, Grossman and DeBenedetti (1) reported that, among 41 children, 12.5% of those with UC (4 of 32 patients) and 56% of those with CD (5 of 9 patients) developed EN. Dotson et al. (12) studied EIMs in pediatric patients with IBD and reported that 28 of 1,009 (2.8%) developed EN during the follow-up period, including 3.6% (26 of 728) of those with CD and 0.71% (2 of 281) of those with UC.
The pathophysiology of EN is not well known, and a genetic etiology was hypothesized, specifically with the HLA region on chromosome 6, i.e., HLA-B15 (26). EN is known to progress with the underlying intestinal disease, and treatment for IBD also controls this dermatologic lesion (2,3,47). In severe or refractory cases, systemic corticosteroids or immunosuppressive therapy is indicated. Mild cases can be treated with leg elevation, analgesics, potassium iodine, and compression stockings (48).
Pyoderma gangrenosum
Pyoderma gangrenosum is an erythematous pustule or nodule that rapidly develops into a deep ulcer that is usually found on the extensor surfaces of the extremities or other portions of the body, especially in cases of previous trauma (7,38,49). Pyoderma gangrenosum is much rarer, more severe, and more debilitating than EN. The prevalence of pyoderma gangrenosum in patients with IBD is reportedly 0.3–5% and is more predominant in female patients with IBD and in patients with UC than in those with CD (5,7,38). However, Bernstein et al. (6) found a higher prevalence of pyoderma gangrenosum in patients with CD in a population-based study with a total of 4,445 patients. For pediatric patients, Dotson et al. (12) also reported that pyoderma gangrenosum was more common in CD than UC among a total of 1,009 patients with a total prevalence of 0.3% (3 of 1,009). Pyoderma gangrenosum is known to be related with colonic involvement, EN, and arthritis (2,50,51). The correlation with the underlying disease activity of pyoderma gangrenosum is not clear to date; however, it usually resolves with treatment of the underlying IBD (2,15,51).
In the treatment of pyoderma gangrenosum, rapid lesion healing is very important because of the debilitating nature of the disease course. Mild cases usually respond to local and topical treatment such as intralesional corticosteroid injection, Hydroactive dressing, topical sodium cromoglycate, and topical 5-aminosalicylic acid. Systemic agents such as oral sulfasalazine, dapsone, corticosteroid, and various immunomodulators, including azathioprine, cyclophosphamide, cyclosporine, methotrexate, tacrolimus, and mycophenolate mofetil, can be effective. Anti-TNF-α agents also have reported effectiveness in pediatric and adult patients, especially in severe pyoderma gangrenosum cases (52,53).
Sweet syndrome
Sweet syndrome refers to acute febrile neutrophilic dermatosis, a rare EIM in IBD patients (54,55). Its dermatological manifestation is tender erythematous papules, plaques, or nodules on the arms, legs, trunk, hands, or face. Sweet syndrome can be related with malignancies other than IBD. The histologic finding on a skin biopsy usually shows neutrophilic infiltration with leukocytosis (56). Disease activity is known to be associated with this cutaneous manifestation (54,55,57). Lesions mostly respond to topical or systemic corticosteroids, and a case treated with metronidazole was reported (56-58).
Metastatic CD
Metastatic CD is a granulomatous dermatitis with the histologic characteristic of the presence of non-caseating granulomatous inflammation and perivascular monocytes and lymphocytes in the skin that occurs distant to and separate from the gastrointestinal tract (59,60). It is rare, especially in children, and may precede the gastrointestinal symptoms of IBD by months to years (61-63). The clinical symptoms of metastatic CD can manifest as plaques, abscesses, swelling, or fissures in any part of the skin, mainly that involving the arms, legs, and face. Urogenital involvement is quite rare; recently, pediatric cases of penoscrotal swelling, erythema, or ulceration in male patients and of vulvar swelling or pre-clitoral masses in female patients have been reported (63,64). The treatment of metastatic CD is diverse and commonly medical, including regimens of topical or systemic steroids, metronidazole, mesalamine, azathioprine, cyclosporine, and topical tacrolimus. Anti-TNF-α inhibitors such as infliximab and adalimumab also achieved successful clinical remission (63,65-67).
Other dermatological EIMs
Psoriasis, epidermolysis bullosa, polyarthritis nodosa, alopecia, and erythema elevatum diutinum are cutaneous manifestations of IBD. Psoriasis can manifest before the intestinal symptom onset of IBD, and reports of anti-TNF-α-associated psoriasiform skin lesions are increasing (68,69).
---
Oral EIMs
Aphthous stomatitis (7–21%) and arthritis (8–26%) are among the most common EIMs in children (11,13). Aphthous stomatitis is more common in patients with CD (20–30%) than in those with UC (5–10%) (3). Oral lesions, such as aphthous stomatitis and periodontitis, are thought to follow the underlying course of IBD (2,70). Pyostomatitis vegetans, a more severe form of oral lesions, is characterized by multiple pustules, erosions, and vegetating dermatosis with a cobblestone appearance (71). This rare and chronic disease is more commonly reported in patients with UC than the patients with CD (70,71). Zinc deficiency in patients with CD is known to be associated with the development of Pyostomatitis vegetans (72). The treatment of oral lesions includes antiseptic mouthwashes, topical steroids, and the treatment of underlying gastrointestinal disease. Surgical treatment with total colectomy in severe and refractory UC reportedly resulted in permanent remission of the Pyostomatitis vegetans (73).
Orofacial granulomatosis is a rare disease with granulomatous lesions in orofacial tissues, and it is increasingly being recognized related with pediatric patients with CD (74,75). The most common presenting symptoms and signs are lip and facial swelling, and the histological features are not distinguishable from the ones of CD (74-76). In adult patients, CD was coexistent in up to 20–50% of orofacial granulomatosis (77). In a recent systemic review about pediatric patients with orofacial granulomatosis showed that 40.4% of those patients developed CD during their lifetime (78). And it also found that 6.4% of the pediatric patients with orofacial granulomatosis had a positive family history of CD. The pathogenesis of orofacial granulomatosis is not clearly identified yet, and hypotheses of allergy, infection, or genetic predisposition have been suggested (79). Those two diseases showed a similar disease course of long-term recurrent relapse and remission, and they responded to similar treatment with steroids, other immunosuppressive drugs such as azathioprine, thalidomide, and anti-TNF agent (75,80,81).
---
Ocular EIMs
Ocular manifestations associated with IBD are a major EIM along with those in the joints and skin. It is known that 2–5% of adult patients with IBD develop ocular manifestations (47,82,83). A recent analysis of pediatric ocular EIMs in IBD patients showed that the overall prevalence of ocular EIMs was 0.62–1.82%. The study shows that children with CD are at an increased risk of ocular EIMs than children with UC or IBD-unclassified [odds ratio (OR), 2.70; 95% confidence interval (CI), 1.51–4.83] (84). Jose et al. showed that the prevalence of ocular manifestations in pediatric IBD cases was 0.8–13% in patients with CD and 0.4% in patients with UC (11). Patients with CD and colonic involvement are at an increased risk of developing ocular EIMs than those with small bowel disease alone (3).
Ocular EIMs include episcleritis, uveitis, conjunctivitis, glaucoma, and retinal vascular disease. Among them, episcleritis and uveitis are the most common (83-85). Episcleritis is characterized by painless hyperemia of the conjunctiva and sclera without changes in visual acuity. It usually progresses with the underlying disease activity of IBD and does not require specific treatment other than that for the underlying disease. However, scleritis affects deeper layers of the eye and can result in visual impairment if the diagnosis is delayed. This condition requires more specific treatment with systemic or topical steroids along with a prompt referral to an ophthalmologist (83,85,86).
Uveitis is less common than episcleritis and manifests as an acute or subacute painful eye with visual blurring, photophobia, and headache. Uveitis is an inflammation of the middle chamber of the eye. The diagnosis is confirmed by slit-lamp examination, and prompt referral to an ophthalmologist is mandatory due to its emergent nature. Treatment consisting of systemic or topical steroids should be started as soon as possible to prevent progression to blindness (83,85,86). Successful treatment with an anti-TNF-α agent for uveitis has been reported. Unlike episcleritis, uveitis is independent from the underlying disease activity (87,88).
Glaucoma can result from the long-term use of corticosteroids; however, recent reports show that children who have not been exposed to corticosteroids developed glaucoma, indicating the immunologic pathological mechanism of its development (3).
---
Hepatobiliary EIMs
Hepatobiliary EIMs include PSC, hepatitis (chronic, active, granulomatous), hepatic abscess, hepatic cirrhosis, bile duct carcinoma, fatty liver, and cholelithiasis (89-91). Among them, PSC is the most common and serious complication in adult or pediatric patients and is more common in patients with UC than in those with CD with a prevalence of 2.4–7.5% in patients with UC (92-94). Faubion et al. (95) showed that the prevalence of PSC was 0.23 cases/100,000 person-year for children and 1.11 cases/100,000 person-year for adults. For the prevalence of PSC associated with IBD, it has been known as 70-81% for adult patients with IBD (96-98) and as 59–84% in pediatric patients with IBD (95,99). Faubion et al. (95) also showed that PSC was more commonly associated with UC than CD; 84% of 52 pediatric patients with PSC were found to have IBD concomitantly, with predominance of UC than CD (89%, UC and 11%, CD). In Korea, Yoon et al. (94) reported the similar result with predominance of PSC in UC than CD, with the result that 5.4% (12/221) of pediatric patients with UC had PSC concomitantly, whilst 0.2% (1/611) of pediatric patients with CD also had PSC.
PSC is a chronic inflammatory disease that progressively involves the intra- and extrahepatic bile ducts and is characterized by occlusive fibrosis with cholestasis, biliary cirrhosis, and sometimes liver failure with pancreatitis. Chronic and progressive damage occurs in small, medium, and large bile ducts, resulting in periductal concentric inflammatory and obliterative fibrosis that leads to biliary stricture (100-102).
Compared to adult populations, pediatric patients with IBD show a higher incidence of overlap syndrome (7.6–53.8%), a disorder of concomitant presence with autoimmune hepatitis (AIH) along with PSC (103,104). Patients with PSC and IBD, especially children, should be investigated for the presence of AIH or overlap syndrome. Even before the diagnosis of IBD is made, patients with PSC should undergo a colonoscopy to evaluate the possible coexistence of IBD (105,106).
The pathogenesis of PSC in IBD is not yet fully understood; however, a recent review suggested some predisposing genetic factors with several HLAs and specific gene pathways, autoimmune genesis, and alterations of gut microbiota (107). Perinuclear anti-neutrophil cytoplasmic antibody titers are elevated in many patients with PSC and UC, and autoimmune disorders are more frequent in patients with PSC than in patients with IBD without liver disease (108,109).
There are clinical differences between patients with IBD and those with IBD and concomitant PSC. Faubion et al. (95) analyzed pediatric patients with IBD and PSC and showed that UC with pancolitis, rectal paring, and backwash ileitis was observed more frequently than that in IBD patients without PSC. Several studies in adult patients with IBD also showed differences between IBD patients with or without concomitant PSC; those with IBD and PSC showed a lower degree of intestinal inflammation, less frequent penetrating and fistulizing forms, longer periods of remission, and higher risks of dysplasia or colorectal cancer (105,110,111).
The treatment includes pharmacological therapy with ursodeoxycholic acid, prednisone, methotrexate, cyclosporine, tacrolimus, and antibiotics; however, none of the treatments affected the disease course (112-115). Azathioprine should be used with caution because of a report on the increased toxicity of the medication in a group of patients with IBD and PSC (116). A study of 14 pediatric patients with IBD and PSC showed the effectiveness of oral vancomycin for 54±43 months resulting in improved clinical symptoms and biochemical profiles (113). That finding suggests that alterations in the gut microbiota could have potential therapeutic benefit and that the use of antibiotics is the main treatment for acute cholangitis (22,107). The role of biologics remains controversial, and Franceschet et al. (114) reported that the use of biologics may deteriorate liver function. Surgical, endoscopic, or interventional radiological procedures should be used to manage biliary strictures. Surgical drainage procedures, such as portoenterostomy and choledochoenterostomy, are ineffective, and orthotopic liver transplantation should ultimately be considered (117,118).
---
Chronological order of EIMs
Recent pediatric studies have shown higher rates of EIMs at IBD onset compared with adults (8.5–14.3% in children vs. 5–7.3% in adults) (13,14). Greuter et al. (13) also found that EIMs appeared before the initial diagnosis of IBD in up to 30% of pediatric patients with IBD. The specific EIMs that appeared before the IBD diagnosis were peripheral arthritis first, followed by uveitis, EN, axial arthropathy, and aphthous stomatitis. In this study, all cases of psoriasis and pyoderma gangrenosum appeared after an IBD diagnosis. Moreover, they found that peripheral arthritis (64.0% vs. 28.0%) and uveitis (83.3% vs. 16.7%) appeared significantly more frequently after versus before the diagnosis of IBD. The median lag of time of EIM appearance before the IBD diagnosis was −5.0 months (range, −37.5 to −0.4) (13). The study also investigated the chronological appearance of EIMs in pediatric patients with IBD before versus after the diagnosis, and the results showed that musculoskeletal symptoms, such as peripheral arthritis, were the most common first EIMs, followed by stomatitis, ophthalmological problems such as uveitis, and skin changes (11,13,29).
The Swiss IBD Cohort Study Group performed a study in adults before performing a pediatric study. Vavricka et al. (119) found that the prevalence of EIMs was 29.3% (366/1,249) and that the first presented EIM was peripheral arthritis (70.0%), followed by aphthous stomatitis (21.6%), axial arthropathy/AS (16.4%), uveitis (13.7%), and EN (12.6%). A total of 25.8% of EIM cases appeared before the IBD diagnosis was made, with a median time of 5 months before the IBD diagnosis (range, 0–25 months), similar to the findings of the later pediatric study. Thirty years after the diagnosis, up to 50% of patients with IBD suffered from at least 1 EIM. Axial arthropathy, peripheral arthropathy, stomatitis, and uveitis occurred before the diagnosis of IBD, even years earlier. This chronological order was similar to the results of the study in pediatric patients with IBD (13,119).
These results in children and adults with IBD suggest that awareness of the EIMs manifesting before gastrointestinal symptoms in IBD should help decrease the diagnostic delay in adult and pediatric patients with IBD.
---
Conclusions
EIMs are frequently encountered in pediatric and adult patients with CD and UC. EIMs may affect various organs and can be more debilitating in the patient's disease course. Some of the EIMs are strongly correlated with the underlying intestinal disease activity (Table 2). Recognition of the correlation with underlying disease activity and specific EIMs can help the establishment of treatment regimens and evaluation and monitoring plans. Since a non-negligible proportion of EIMs can manifest before the onset of intestinal symptoms or signs, awareness of EIMs and careful monitoring should help clinicians decrease diagnostic delays and resulting morbidity in cases of IBD.
---
Acknowledgements
None.
---
Footnote
Conflicts of Interest: The authors have no conflicts of interest to declare.
---
References
Cite this article as: Jang HJ, Kang B, Choe BH. The difference in extraintestinal manifestations of inflammatory bowel disease for children and adults. Transl Pediatr 2019;8(1):4-15. doi: 10.21037/tp.2019.01.06